| FRAME MODEL # | SIZE | POST SIZE | COLOR | CAP | WT | PRICE |
| --- | --- | --- | --- | --- | --- | --- |
| 3-UTUL-13-096-42-QS | 96" X 42" | 3 X 1-5/8" | GRAY | 15,516# | 50.20 | $58.23 |
| 3-UTUL-13-120-42-QS | 120" X 42" | 3 X 1-5/8" | GRAY | 15,516# | 60.60 | $70.29 |
| 3-UTUL-13-144-42-QS | 144" X 42" | 3 X 1-5/8" | GRAY | 15516# | 71.70 | $83.16 |
| 3-UTUL-13-144-48-QS | 144" X 48" | 3 X 1-5/8" | GRAY | 15,516# | 74.00 | $85.84 |
| 3-UTUL-13-192-42-QS | 192" X 42" | 3 X 1-5/8" | GRAY | 15,516# | 95.50 | $110.77 |
| 3-UTUL-13-192-48-QS | 192" X 48" | 3 X 1-5/8" | GRAY | 15,516# | 98.80 | $114.60 |
| 3-UTUH-13-144-42-QS | 144" X 42" | 3" X 3" | GRAY | 25,177# | 88.80 | $103.00 |
| 3-UTUH-13-192-42-QS | 192" X 42" | 3" X 3" | GRAY | 25,177# | 118.30 | $137.23 |
| 3-UTUH-13-240-42-QS | 240" X 42" | 3" X 3" | GRAY | 25,177# | 145.60 | $168.89 |
| STEP BEAM MODEL # | SIZE | STYLE | COLOR | CAP | WT | PRICE |
| --- | --- | --- | --- | --- | --- | --- |
| 3-UTB-350-096-16-QS | 3-1/2" X 96" | TEAR DROP | ORANGE | 4052# | 22.00 | $24.93 |
| 3-UTB-400-096-16-QS | 4" X 96" | TEAR DROP | ORANGE | 5292# | 23.70 | $26.85 |
| 3-UTB-500-096-16-QS | 5" X 96" | TEAR DROP | ORANGE | 7441# | 27.50 | $31.16 |
| 3-UTB-550-096-14-QS | 5-1/2" X 96' | TEAR DROP | ORANGE | 9454# | 32.60 | $36.95 |
| 3-UTB-550-108-14-QS | 5-1/2" X 108" | TEAR DROP | ORANGE | 8459# | 36.30 | $41.13 |
| 3-UTB-550-120-14-QS | 5-1/2" X 120" | TEAR DROP | ORANGE | 7661# | 40.00 | $45.33 |
| 3-UTB-600-144-14-QS | 6" X 144" | TEAR DROP | ORANGE | 6623# | 50.20 | $56.89 |
| ACCESSORY MODEL # | DESCRIPTION | WT | PRICE |
| --- | --- | --- | --- |
| 3-RSG-06-QS | 6" ROW SPACER | 0.90 | $3.00 |
| 3-RSG-08-QS | 8" ROW SPACER | 1.00 | $3.09 |
| 3-RSG-12-QS | 12" ROW SPACER | 1.30 | $3.25 |
| 3-LPLG-42-QS | 42" FLANGED CROSSBAR | 7.00 | $6.53 |
| 3-BBP-12-QS | BOLT-ON 12" POST PROTECTOR **Used with any size base plates** | 3.00 | $4.64 |
| 3-PPB-12-QS | 12" FLOOR MOUNTED POST PROTECTOR **Used with 5" X 7" X 1/4" base plates** | 14.20 | $14.77 |
| 3-AB50-4.50-QS | 1/2" X 4-1/2" ANCHOR BOLT | 0.28 | $1.39 |
| 3-SH10GAX5X7-QS | 5" X 7"X 10 Ga. SHIM | 1.37 | $2.00 |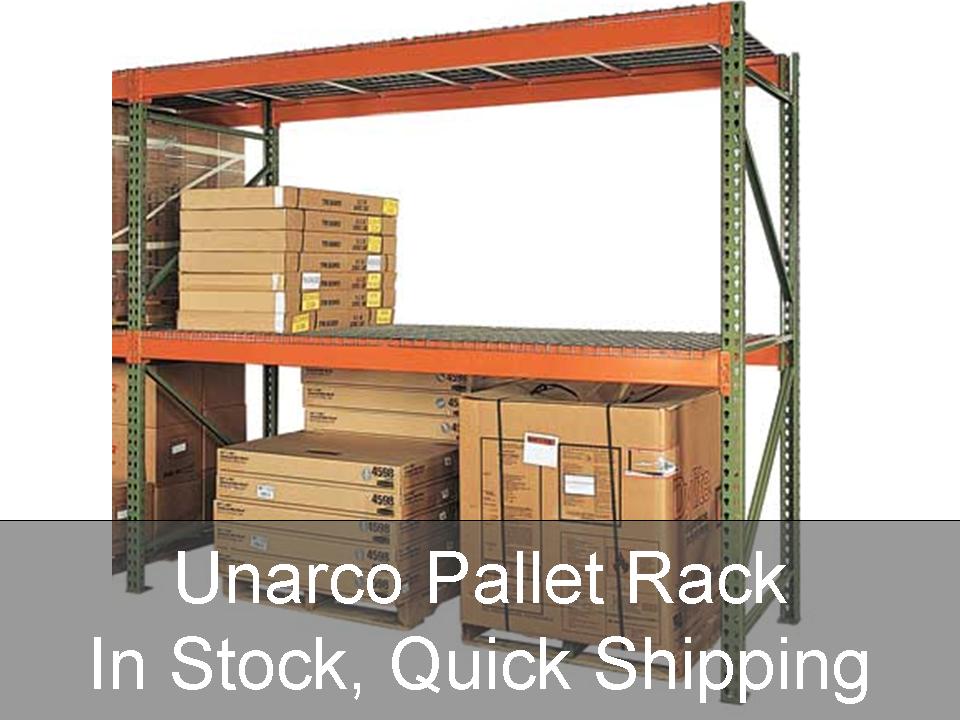 TeardropPallet Rack in Stock Ohio

Unarco Teardrop Pallet Rack is in stock in Ohio!

Interchangeable Pallet Rack is an interlocking design with teardrop-shaped punching on 2" centers along the face of the uprights.  Sometimes this connection is referred to as Teardrop Rack. This quick ship teardrop pallet rack has gray uprights and orange beams.

Unarco teardrop pallet rack is interchangeable with other teardrop style manufacturers.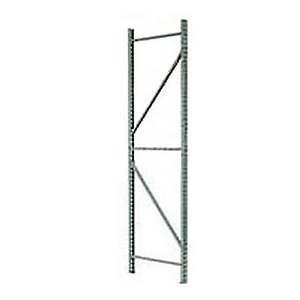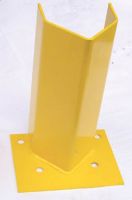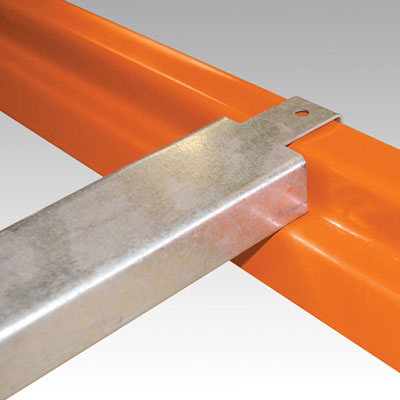 UNARCO Pallet Rack Upright Frames and Beams

UNARCO upright frames are securely welded for maximum rigidity.

15,516–25,177-Lb. capacity frames.

NOTE: All capacities are based on 48" beam spacing and meet standards.

Teardrop style pallet rack, in stock in Greensboro NC, and Charlotte NC Warehouse, Available for immediate shipment or pick up, Wire decks in stock in Greensboro and Charlotte, NC Warehouses, Teardrop Style uprights and beams, wire decks in stock.  Installation on pallet racking, pallet rack installation, freight quotes and delivery available, same day installation also available

Hours: 8:00a.m. - 5:00p.m. EST

Phone: 336-253-8766

Fax: 336-605-5248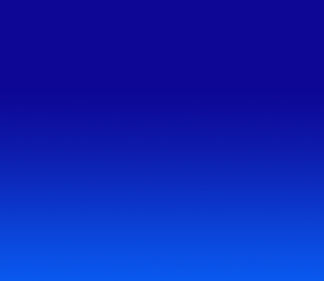 Fax Your Orders:  (336) 605-5248

Call to Order:  (336) 253-8766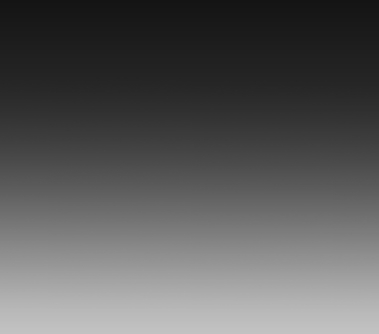 All Content @2011 Reighley Resources - 2209 Patterson Ct.  Greensboro, NC 27407

336-253-8766

Sales@reighleyresources.com

336-605-5248

Robby Reighley